Pick up the Pace AF. A performance cross-trainer designed to increase in stability incrementally from the toe to heel. Result: A substantial, lift ready trainer that will outrun the competition.
Rope-resistant Kevlar side-panel and durable, full rubber bottom Cross Platform outsole with sidewall chassis for extra perimeter protection. Get ready for some PR's.
Unisex Sizing: M = US Men's, W = US Women's
Upper Material: Ripstop / Kevlar / Laminated Overlays
Color: Phantom Black / Kevlar Grey
Style: STC7FW017-PPH
How it Fits: Customers who reviewed this shoe suggest sizing up a 1/2 size.
Flexible forefoot maintains best-in-class running performance.

Durable, full-rubber bottom protects the foot from sharp objects and uneven terrain.

Multi-directional grip offers superior traction across a variety of indoor and outdoor surfaces.

Minimalist, mid to forefoot strike outsole is recommended for sprints and short distance runs.

Crisp energy return engages the body's natural suspension and provide important sensory feedback.

Proprietary medium-density AF midsole formulation provides a silky smooth rebound and effective cushioning.
Our most supportive shoe with reinforced ankle and heel construction.

Multi-directional flexibility keeps your feet engaged and strong during high impact and high intensity workouts.
Supportive sidewall chassis for increased lateral rigidity and perimeter protection during rope climbs.
Full contact heel area and low stack height provides stability and maximizes energy transfer during heavy lifts.
Radiused outsole design and 360-degree traction reduces the risk of ankle roll during lateral movements and agility drills.
TRAVEL / EVERYDAY TRANSIT:
Pedal, court and trail ready traction with protective sidewall chassis.

Resilient and dependable for adventurous travel or city transit.
All-day comfort and versatility.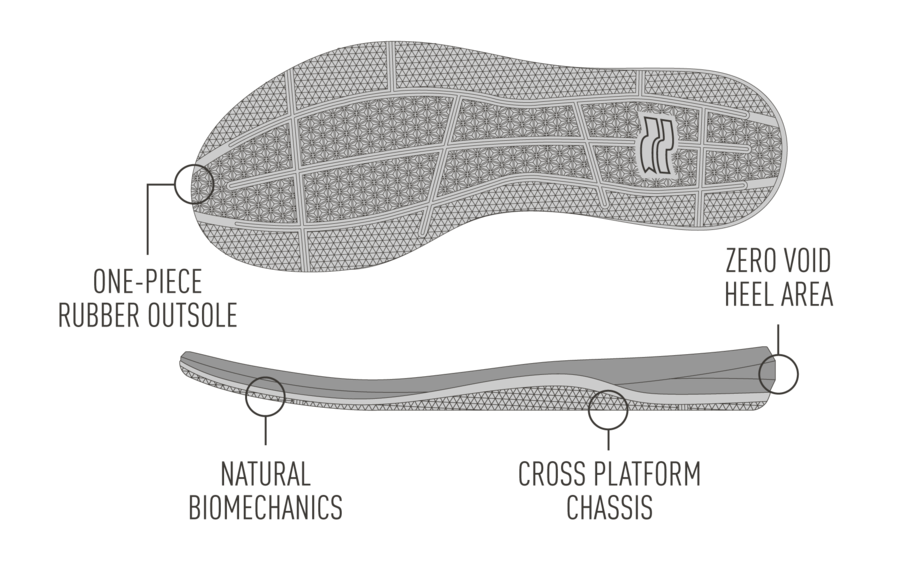 Lightweight and responsive, rope-resistant cross-training outsole that maintains running performance. Radiused, full rubber bottom with superior grip.
≈12mm stack height keeps you close to the ground reducing the risk of ankle roll
~2.5mm heel to forefoot drop promotes a more natural mid to forefoot strike
Not too thick. Not too thin. The perfect balance of cushion and proprioception
Gives the toes room to splay which enhances stability by communicating information about velocity and the conditions under foot
Promotes neutral motion and offers streamlined support
Maintains both linear and lateral flexibility allowing the foot to function the way nature intended - which can help build stronger, healthier feet
Flexible Ripstop toe-box and sturdy Kevlar side panels with laminated heel overlays.

TRES-FRESH antibacterial treatment on upper and lining materials.
Minimal 2.5mm drop, low stack height, zero void heel, wide forefoot.
CensorPocket™ secures shoelaces while on the move.
Two sets of shoelaces for color options.
Reflective STRIKE MVMNT flag logo for visibility.
| MEN'S SHOE SIZE (US) | HEEL TO TOE LENGTH (cm) |
| --- | --- |
| 4 | 21 cm |
| 4.5 | 21.5 cm |
| 5 | 22 cm |
| 5.5 | 22.5 cm |
| 6 | 23 cm |
| 6.5 | 23.5 cm |
| 7 | 24 cm |
| 7.5 | 24.5 cm |
| 8 | 25 cm |
| 8.5 | 25.5 cm |
| 9 | 26 cm |
| 9.5 | 26.5 cm |
| 10 | 27 cm |
| 10.5 | 27.5 cm |
| 11 | 28 cm |
| 11.5 | 28.5 cm |
| 12 | 29 cm |
| 13 | 30 cm |
| WOMEN'S SHOE SIZE (US) | HEEL TO TOE LENGTH (cm) |
| --- | --- |
| 5.5 | 21 cm |
| 6 | 21.5 cm |
| 6.5 | 22 cm |
| 7 | 22.5 cm |
| 7.5 | 23 cm |
| 8 | 23.5 cm |
| 8.5 | 24 cm |
| 9 | 24.5 cm |
| 9.5 | 25 cm |
| 10 | 25.5 cm |
| 10.5 | 26 cm |
| 11 | 26.5 cm |
| 11.5 | 27 cm |
| 12 | 27.5 cm |
Pace
Stable and durable, these are my go to training shoes