chill pill (advanced formula)
Your prescription for a movement based lifestyle.
The Chill Pill Advanced Formula (AF) is a minimalist, performance cross-trainer in a classic sneaker style. Transition effortlessly across a variety of movements and environments.
The ultra-lightweight Stable Platform outsole has a bias toward running and bodyweight exercise, with a flat and stable heel design that excels at lifting weight. Consistent and predictable grip. All-day comfort.
Unisex Sizing: M = US Men's, W = US Women's
Upper Material: Wool
Color: Navy / Classic White
Style: STC7FW003-NCW
How it Fits: Customers who reviewed this shoe suggest sizing up a 1/2 size.
Shares the DNA of a minimalist racing flat for a fast, snappy run.

Wide forefoot combined with a low drop offers important sensory feedback and encourages a mid to forefoot strike running technique.
Proprietary medium-density AF midsole formulation provides a silky smooth rebound and excellent ground feel to help engage the body's natural suspension.
Responsive perimeter and forefoot rubber inlays surrounded by EVA for consistent and predictable grip across a wide range of conditions.
Recommended for short to mid distance runs, but proven to perform on up to 50-mile runs by advanced runners.
Ultra-lightweight and flexible makes it great for box-jumps, skipping and bodyweight exercises.
Flat surface area from the blade of the foot to the heel offers a very stable platform for lifting weight.
Full contact heel area and low stack height provides stability. Minimizes compression and energy loss during heavy lifts.
Not recommended for rope climbs. Shop shoes on the Cross Platform outsole for rope-resistant features.
TRAVEL / EVERYDAY TRANSIT:
Perfect for walking and standing for long periods of time.
All-day comfort and versatility. Pack One Pair™ approved by light travellers.
Predictable grip across a wide variety of indoor and outdoor surfaces.
Long, low and unobtrusive arch reduces pronation while in a neutral position.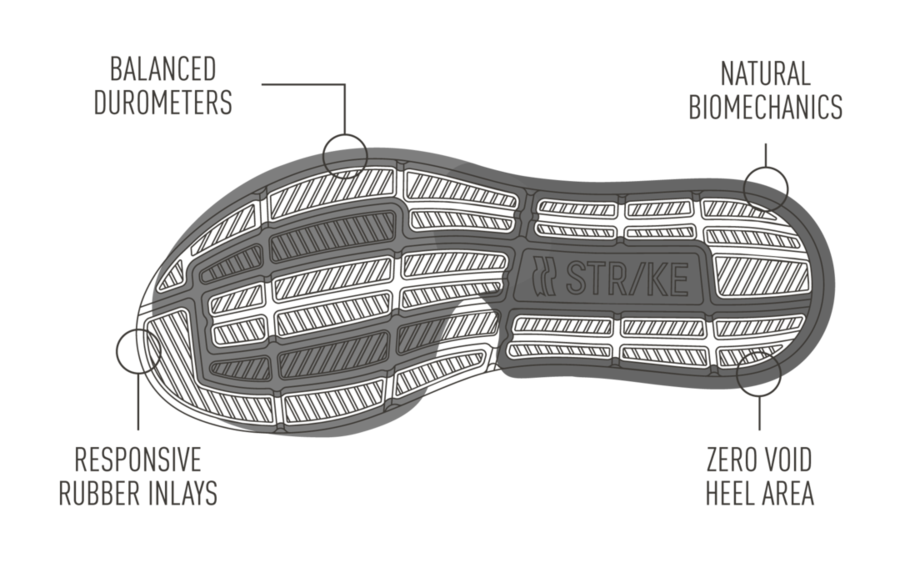 Ultra-lightweight and flexible, mid to forefoot strike cross-training outsole with stable heel platform for lifting weight. Stability, performance and comfort
~9mm stack height keeps you close to the ground reducing the risk of ankle roll
~3.9mm heel to forefoot drop promotes a more natural foot strike
Not too thick. Not too thin. The perfect balance of cushion and proprioception
Gives the toes room to splay which enhances stability by communicating information about velocity and the conditions under foot
Promotes neutral motion and offers streamlined support
Maintains flexibility in both linear and lateral directions allowing the foot to function the way nature intended - which can help build stronger, healthier feet
TRES-FRESH antibacterial treatment on upper and lining materials.
Minimal 3.9mm drop, low stack height, zero void heel, wide forefoot.
Hidden Lace Storage Pocket to keep it tied and tidy.
CensorPocket™ secures shoelaces while on the move.
Embroidered STRIKE MVMNT flag logo.
Ultra-lightweight - 7.5 oz in a size 9 (approx.)
| MEN'S SHOE SIZE (US) | HEEL TO TOE LENGTH (cm) |
| --- | --- |
| 4 | 21 cm |
| 4.5 | 21.5 cm |
| 5 | 22 cm |
| 5.5 | 22.5 cm |
| 6 | 23 cm |
| 6.5 | 23.5 cm |
| 7 | 24 cm |
| 7.5 | 24.5 cm |
| 8 | 25 cm |
| 8.5 | 25.5 cm |
| 9 | 26 cm |
| 9.5 | 26.5 cm |
| 10 | 27 cm |
| 10.5 | 27.5 cm |
| 11 | 28 cm |
| 11.5 | 28.5 cm |
| 12 | 29 cm |
| 13 | 30 cm |
| WOMEN'S SHOE SIZE (US) | HEEL TO TOE LENGTH (cm) |
| --- | --- |
| 5.5 | 21 cm |
| 6 | 21.5 cm |
| 6.5 | 22 cm |
| 7 | 22.5 cm |
| 7.5 | 23 cm |
| 8 | 23.5 cm |
| 8.5 | 24 cm |
| 9 | 24.5 cm |
| 9.5 | 25 cm |
| 10 | 25.5 cm |
| 10.5 | 26 cm |
| 11 | 26.5 cm |
| 11.5 | 27 cm |
| 12 | 27.5 cm |